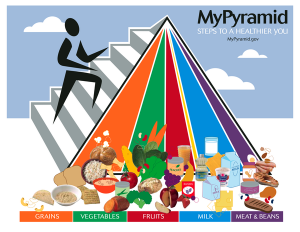 The USDA has released preliminary information about the next round of changes coming to the Food Pyramid.  First published in 1980, the Dietary Guidelines are mandated by Congress to be reviewed, updated and released by USDA and HHS every five years.
Based on the material being released, it is clear that obesity is front and center as a focus of the upcoming changes.  It's no surprise considering that 67 out of every 100 American adults are overweight or obese.  The new enhancements should be a welcome addition to the all of our efforts to improve our nation's health.
Below are some of the key goals targeted in the new guidelines:
Reduce the incidence and prevalence of overweight and obesity of the US population by reducing overall calorie intake and increasing physical activity.
Shift food intake patterns to a more plant-based diet that emphasizes vegetables, cooked dry beans and peas, fruits, whole grains, nuts, and seeds. In addition, increase the intake of seafood and fat-free and low-fat milk and milk products and consume only moderate amounts of lean meats, poultry, and eggs.
Significantly reduce intake of foods containing added sugars and solid fats because these dietary components contribute excess calories and few, if any, nutrients. In addition, reduce sodium intake and lower intake of refined grains, especially refined grains that are coupled with added sugar, solid fat, and sodium.
Meet the 2008 Physical Activity Guidelines for Americans.
You can view the USDA page describing the upcoming changes here. One of the interesting features of the USDA site is that you can view the comments that have been posted in response the the proposed changes.   Here is the link to view the comments.