An incentive program that pays people every 90 days for achieving a healthier weight has been launched by the UNMC College of Public Health in partnership with the Nebraska Medicine Fontenelle Clinic and incentaHEALTH.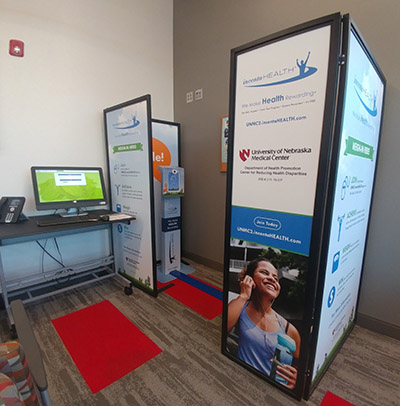 The project builds on a partnership between UNMC researchers and incentaHEALTH, a Colorado company that specializes in developing incentive health promotion programs. The project is part of a pilot study funded through the 2019 Great Plains IDeA-CTR initiative. UNMC landed the IDeA-CTR (Institutional Development Award-Clinical/Translational Research) grant in 2016. With nearly $20 million in funding, it is the largest ever procured by UNMC.
The company's largest scale project, "Weigh and Win," is an evidence-based approach that includes a website, objective weight assessment using community-based kiosks, daily motivational email and text message support, online access to health coaches and modest financial incentives intended to increase program reach.
Participants must be at least 19 years of age, overweight or obese with a body mass index (BMI) of at least 25, and have internet access. Progress is tracked through weigh-ins at the Fontenelle Clinic kiosk, where a photograph, known as the Healthy Selfie, is taken and weight measurements to calculate BMI are made. A private online dashboard account allows participants to track their progress, view their photographs and engage with health coaches.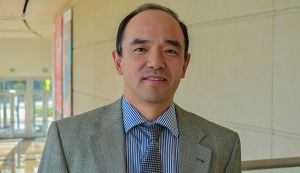 "We want to study how the use of different incentive strategies may reduce the initial drop-out rate in weight loss programs by using electronic interventions developed by incentaHEALTH in a primary care setting," said Dejun Su, Ph.D., principal investigator of the study and director of the Center for Reducing Health Disparities in the College of Public Health.
"One of the major challenges in implementing community-based, weight loss programs is the high attrition rate. Evidence from several large scale, community-based, weight loss programs suggested that about 40% to 50% of participants did not come back after initial program registration," Dr. Su said.
So far, about 150 people already have enrolled in the free program. Eligible participants can sign up here or at the kiosk located at the Nebraska Medicine Fontenelle Clinic, 5005 Ames Ave. in Omaha.
Cash rewards can be earned every 90 days, plus prize drawings are held for participating. Participants will be randomly assigned to an incentive group (rewards for weight loss, rewards for just weighing-in, or rewards for both weight loss and weighing-in). Cash awards are progressive – the more weight lost or the more weigh-ins recorded, the more money earned.
The research study title is, "Sustaining the Reach of a Scalable Weight Loss Intervention through Financial Incentives: an Exploratory Randomized Controlled Trial," IRB#211-19-EP.
Goal is to Improve Health
Jamalia Parker, director of family engagement services, Learning Community Center of North Omaha, said she enrolled in the program because she wanted to improve her overall health, especially eating and activity habits.
"I love that the program is easy to use. I can log on to the website or view the app and see what is suggested for daily meals and exercise. I also like the daily motivational quotes and reminders from my profile on why I started," she said. Parker enrolled after receiving an email from the North Omaha Community Care Council. Her three goals are to lower her BMI, lose weight and change her lifestyle.
Another study participant, Kym Simmons, after learning about the weight loss program and the kiosk, said she would use the clinic's scale for her own weekly weigh-in.
See full press release on the UNMC Newsroom website.