incentaHEALTH flips the tables on current research trends to study the impact of decreased weight loss on stress within its Colorado population

Since 2003, award-winning incentaHEALTH has offered scalable weight loss solutions to employees, community members and patients. Through the utilization of behavior economics, individuals are encouraged to adopt new habits around healthy eating and active living. A cash incentive system rewards those with a minimum of 5% weight reduction every 90 days.
With data gleaned from a 2019 survey (request a copy of the survey), incentaHEALTH learned more about the impact of weight loss on decreasing stress. The majority of studies focus on the impact of stress on weight loss. Rarely is the opposite effect studied, and the results were impactful. The majority of the over 800 survey participants cited their weight loss as the leading reason for overall stress reduction. Additionally, over 80% noted increased energy levels, "feeling better" about their appearance and feeling "less irritable," thus leading to a heightened sense of confidence in oneself.
"Over time I have lost weight. I make better food choices for weight loss…I am taking more pride in my external appearance," one participant noted.
Through the use of the patented 'Healthy Selfie,' participants visually track the effects of improved nutrition and increased physical activity. With the addition of the mindfulness audio coaching in the incentaHEALTH app, participants experience the benefits of meditation by taking ten minutes a day to destress at home, the office or wherever is convenient. Notably, 93% of survey participants indicated managing stress is important to them. And with the tools available in the incentaHEALTH program, they have noticed the results. The majority surveyed feel less stressed at home after following the coaching provided.
As one happy client said, "I love the new me, so thanks for putting me on the right track to better health and a longer life as well. The team was so helpful too! Thank you!"
"I love how our members can use the incentaHEALTH app to visually see their progress as they improve their nutrition and exercise habits each month. This one-of-a-kind 'Healthy Selfie' inspires our members to stick with their new healthy habits," says Todd McGuire, Co-Founder of incentaHEALTH. "We're seeing a powerful link between how an individual's resilience can be bolstered by encouraging them to invest in their health."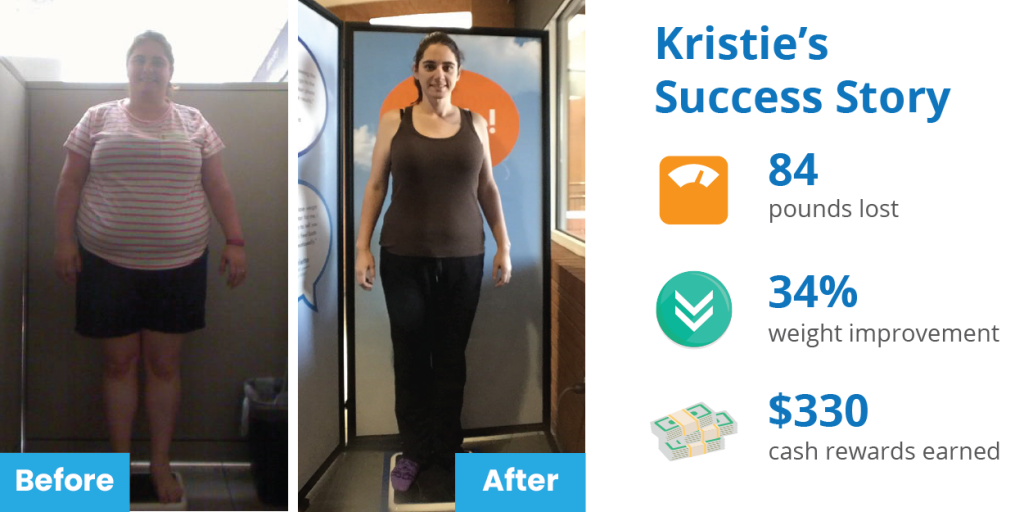 "I have struggled with my weight my entire life. When I saw the program, I thought it might be something that would help me stay motivated. I loved the idea of daily emails with tips, and the possible cash motivated my competitive personality. I know it sounds silly, but Weigh and Win didn't give up on me. There was a time I stopped weighing-in and reading the emails. I was in a bad place health wise. The daily emails kept coming and served as a reminder. Losing weight and getting healthy has influenced my entire family. I love that my son is being raised with that positive example now."