Everyone is trying to control health care costs. This inevitably leads to the use of corporate wellness programs. While just about anything you do to promote health among your employees is going to have at least some positive impact, the degree of your success can vary wildly. What is needed is a consistent methodology for measuring the effects of any wellness program under consideration.
incentaHEALTH uses a model called "The 4 R's" as a simple way to have a consistent measuring stick for just about any type of wellness effort. The four R's are: Reach, Retention, Results and Return on Investment (ROI).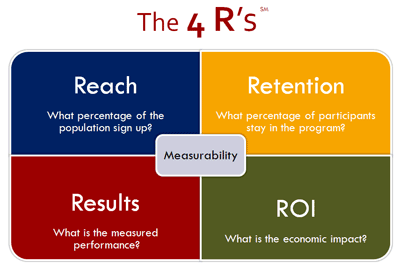 It's a simple framework when you initially examine it, but there are powerful insights to be gleaned by consistently applying the model to your various wellness efforts. In the coming weeks, I'll get into some real world examples of how to optimize each of the four Rs for your organization.
We will be presenting a session titled "Reach, Retention, Results and ROI: Exploring the Four Critical Components of a Successful Wellness Program" at the upcoming World Health Congress on Obesity. The conference takes place September 30 through October 2 in Alexandria, Virginia. During this talk, we will be examining each of these concepts and providing simple ideas for maximizing each one. You can learn more about the session here.
Have you come up with your own measurement approach that helps cut through the clutter and get to the bottom line impact of your wellness efforts? Please let us know…we're always trying to learn new ideas and put them into practice!