As the co-founder and chief technologist for the digital health company incentaHEALTH, I've spent the last decade prototyping various designs for health devices that reward people for achieving (and sustaining) good health.  This week I'm thrilled to start the beta test of our first-ever home version of this platform.
When we started incentaHEALTH, we wanted to move the wellness industry beyond self-reported data, and instead measure and reward real health outcomes.
This led us to invent a kiosk that combines a digital camera, a secure Internet connection, and biometric measurement (think body weight scale, blood pressure cuff, glucometer, etc.).  We named the device the HEALTHspot and have used a fleet of these kiosks to perform about a half million wellness screenings at medical centers, government offices, retail locations and worksites across the globe.   Our unique approach of recording a full length digital photo of a (mostly) smiling program participant standing on a scale earned us a patent for the device.   (We didn't realize it when we did our first digital photo screening back in 2003, but I think we were ahead of the "selfie" craze about 10 years before Ellen!)
From the conference room to the living room
Our program is taking off in traditional corporate and community settings, but we're always looking for ways to remove as many barriers as possible and meet people where they are once they are ready to get healthy.
With the proliferation of smart phones, wearables and home health tech, an exciting new venue for wellness has emerged: the living room!  This week I'm excited to ship the first pre-production units of our 5th generation HEALTHspot: the Home Edition.  We are beginning a beta test among a group of our customers who are using our app plus a low-cost Bluetooth scale to wirelessly perform authenticated weigh ins from the comfort of their home (instead of trekking out to the nearby library or rec center that typically houses one of our public kiosks).  

With their smart phone propped up on their bathroom counter (or in hand selfie-style!), our customers will for the first time be able to perform the same visual weigh in that they do on our public kiosks.  By taking the photo and weight measurement simultaneously, we are able to authenticate the screening and use behavioral economics to reward people for sustaining their results.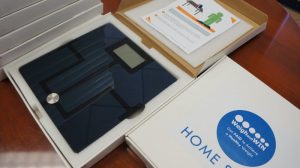 I'm looking forward to the lessons we'll learn from the beta testers.  Hopefully the beta goes well, and we'll soon be offering the platform everywhere.  Please drop me a line if you want to get involved!
Thanks!
Todd