71 Percent of Engaged Participants Lost Weight
DENVER, April 4, 2017 /PRNewswire/ — Of the more than 40,000 people who participated in a cash-incented, technology-based weight loss program, an impressive 71 percent of engaged participants lost weight, according to a recent study published in the Journal of General Internal Medicine. The study of the Weigh and Win program was facilitated by the University of Nebraska Medical Center, Virginia Tech, Kaiser Permanente Colorado and incentaHEALTH.
The study evaluated 40,308 Colorado adults enrolled in Weigh and Win between 2011 and 2014. Seventy-nine percent (31,843) were women with an initial body mass index (BMI) of 32.3 (≥30 is considered to be obese). African American turnout was exceptionally strong, over-represented by 4x the state's Census data. Nearly half of the 19,029 participants who engaged past their initial weigh in were found to lose at least 3 percent of their initial body weight, and 34 percent lost 5 percent or more. This significant reduction in body weight reduces triglycerides, blood glucose and hemoglobin A1c levels, and is associated with reduced risk of cardiovascular disease, co-morbidity and mortality.
"We know obesity increases the risk for diabetes, high blood pressure, heart disease, cancer and stroke," said Amy Bayer, Kaiser Permanente Colorado registered dietitian and co-author of the study. "Kaiser Permanente is proud to be a part of the Weigh and Win program which, as this study suggests, helps program participants lose weight—reducing their risk of obesity-related illnesses."
The objective of the study was to examine reach, effectiveness, and implementation costs associated with the Weigh and Win program as a way to evaluate community-wide obesity prevention efforts. Researchers ultimately found Weigh and Win to:
Encourage engagement; the average duration between initial weigh in and most recent weigh in was 1.7 years across all groups
Effectively reach and retain a large number of participants and may contribute to reducing health disparities
Be more cost-effective than other publicly available weight loss programs
Approximate cost per participant for the 12 month program was $84, which is favorable when compared to other publicly available weight loss programs, such as Weight Watchers which costs $258 for six months.
"The use of the patented incentaHEALTH scale has allowed us to change the dynamic of patient engagement," said Todd McGuire, co-founder and CTO of incentaHEALTH. "By offering a playful 'photo booth' experience at the scale, we've changed the tone of the program from the typical medical experience and made it much less intimidating. The enthusiasm from the community has been tremendous, with over 86,000 Coloradans signing up!"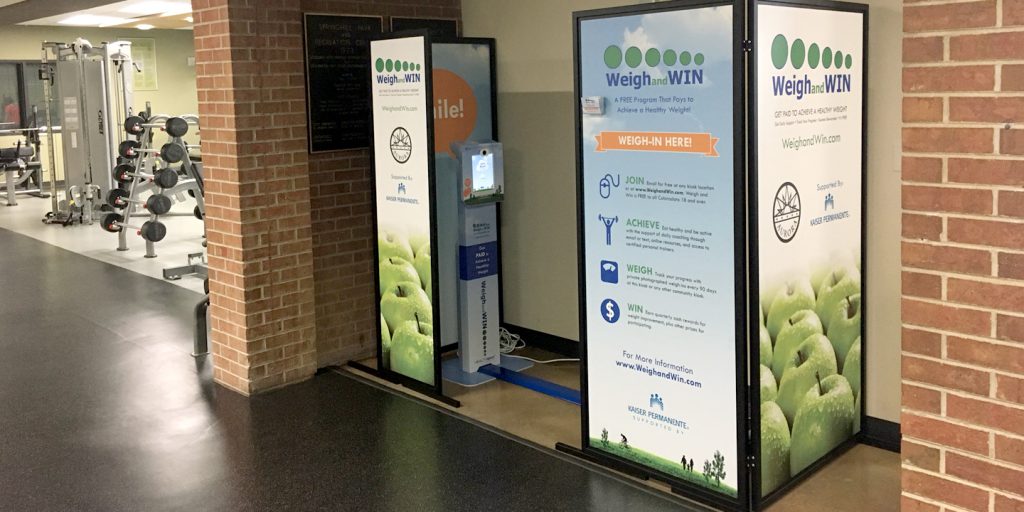 Thanks to a continued partnership with Kaiser Permanente Colorado, Weigh and Win offers participants daily health coaching and cash rewards for weight loss and maintenance. Weigh and Win is offered for free to Coloradans 18 and over.
incentaHEALTH's mission is to reverse obesity, one community at a time. Join us by contacting [email protected].
Download the full study at www.incentaHEALTH.com/research.