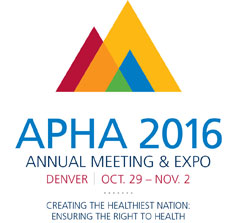 The incentaHEALTH team is excited to announce it has been invited to present at the American Public Health Association's Annual Meeting & Expo Oct. 29 – Nov. 2, 2016 in Denver.
Over the past year and a half, incentaHEALTH has worked with a team of world-class researchers from Virginia Tech, the University of Nebraska Medical Center and Kaiser Permanente, examining the effectiveness of activity trackers and and how wearables relate to engagement and weight loss enhancement.
The abstract was selected from a large number of submissions and was judged to be of the highest quality and interest.
APHA's Annual Meeting and Expo brings together more than 12,000 public health professionals from across the U.S. and around the world to network, educate and share experiences.
This year's conference will be hosted at the Colorado Convention Center and the Hyatt Regency Denver and will be the largest public health conference and expo in the world.
ABOUT incentaHEALTH's PRESENTATION AT APHA 2016: 
incentaHEALTH will address the demographic differences and weight-loss enhancement among enrollees of a web-based weight improvement platform. By examining the impact of Weigh and Win, incentaHEALTH's technology-supported, community-based weight loss program, metrics such as reach, effectiveness, and costs will be evaluated as well as the proportion of participants that achieved (a) a clinically meaningful weight loss (5% of initial body weight loss), and (b) the cost per participant that achieved a clinically meaningful weight loss across 3 years of program implementation.
The effectiveness of wearable activity trackers will also be assessed.
Abstract Authors include: Almeida FA (University of Nebraska Medical Center); Bayer AM (Kaiser Permanente); Estabrooks PA (University of Nebraska Medical Center); Harden SM (Virginia Tech); McGuire TO (incentaHEALTH); Ramalingam N (Virginia Tech); Schoepke LI (incentaHEALTH); Wilson KA (University of Nebraska Medical Center)