HIMSS 2017: THE MEETING PLACE FOR ALL THINGS HEALTH IT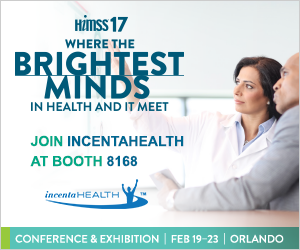 With its world-class education, ever-expanding exhibition and exceptional networking opportunities, no other event brings the brightest minds in health and IT together like the 2017 HIMSS Conference & Exhibition in Orlando, Fla., Feb. 19–23, 2017.
Hosting more than 40,000 healthcare industry professionals, attendees will gain expert insights during the exchange of revolutionary ideas and best practices in improving health through IT.
Join digital health care company incentaHEALTH's Chief Technology Officer, Todd McGuire, for an innovative and thought-provoking talk: Radically Rethinking How to Engage and Treat Obesity and Diabetes.
In many situations, traditional disease management approaches to obesity and diabetes often suffer from a lack of patient/consumer engagement and enthusiasm, and typical interventions are often too costly to scale to large populations. McGuire will discuss a patented digital-health platform that attracts the majority of an overweight population and leverages behavioral economics to create lasting behavior change around Healthy Eating and Active Living (HEAL). See how the unique photo weigh-in scale tracks and wirelessly reports significant body mass index (BMI) improvements that are sustained for a year (and beyond).
McGuire will present Tuesday, Feb. 28 at 12 p.m. (location #7785). Please email to connect beforehand (tmcguire(at)incentaHEALTH.com.) and stop by our exhibitors booth (#8168). Together, we can navigate the ever-changing world of health IT!