incentaHEALTH is excited to announce its suite of weight management, obesity and diabetes prevention programs for employer wellness have been selected by Sourcewell as part of their Digital Health Products contract. Sourcewell is a leading cooperative purchasing network that aims to build stronger relationships with government agencies, non-profits, and educational institutions and leading suppliers to deliver industry-leading solutions. incentaHEALTH was selected based on employee wellness innovations including our unique behavioral economics approach to obesity and diabetes prevention.  This high-engagement wellness approach leverages motivational interviewing and is powered by the patented HEALTHspot visual scale that allows participating members to earn rewards for tracking their "healthy selfie" as they move through a year-long behavior change program. Organizations using the incentaHEALTH wellness platform receive access to a live health analytics reporting portal that provides real-time visualization of key wellness analytics metrics.
Please visit the incentaHEALTH Digital Health Products page with Sourcewell to learn more about the the program offerings.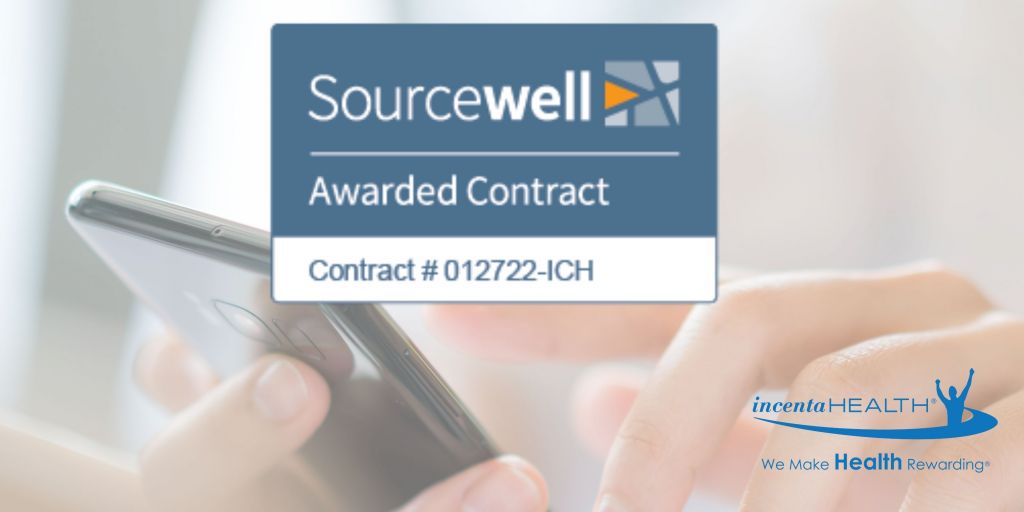 What is Sourcewell cooperative purchasing?
Cooperative purchasing is "Procurement conducted by, or on behalf of, one or more Public Procurement Units" as defined by the American Bar Association Model Procurement Code for State and Local Governments.
Sourcewell's analysts streamline the procurement process for government agencies, non-profits, and educational institutions by developing RFPs and IFBs for national, competitive solicitations that meet or exceed local requirements. The process is continually refined to best meet the needs of participating agencies and allows us to offer exceptional products from nationally acclaimed suppliers. Learn more about how it works.
About incentaHEALTH
incentaHEALTH is a digital health platform that uses behavioral economics to encourage individuals to adopt new habits around healthy eating and active living. The HEALTHspot® scale (U.S. Patent No. 7541547) simultaneously measures each member's weight while recording a full-length digital photo to track visually-authenticated improvements in body weight and BMI.  This "Healthy Selfie" creates an industry-first visual health screening that is enthusiastically embraced by our members, with ⅓ of participants achieving a 5% BMI reduction sustained over multiple years.  The platform delivers personalized coaching 365 days a year via app, email and SMS. Members receive cash rewards every 90 days for returning to the HEALTHspot® scale to track their results. This remote patient monitoring system securely transmits health screening data to each client's analytics dashboard to display live performance results for the entire population. HEALTHspot® scales can be deployed in shared spaces like clinics and workplaces, or in the convenience and safety of the home. incentaHEALTH's #PreventDiabetes™ virtual Diabetes Prevention Program (DPP) brings behavioral economics to a home-based type-2 diabetes prevention solution for individuals that find classroom settings difficult to attend.  incentaHEALTH's #PreventDiabetes program is part of the CDC's National Diabetes Prevention Program and is fully recognized by the CDC. incentaHEALTH's platform has been selected by organizations such as the Colorado Health Department and Kaiser Permanente to deliver research-backed population health solutions for obesity and diabetes prevention.
incentaHEALTH works with individuals, employers, physician groups, health systems and more to offer evidence-based weight management and diabetes prevention solutions. Learn how we can help you can make HEALTH rewarding for your population.  Schedule a demo today.