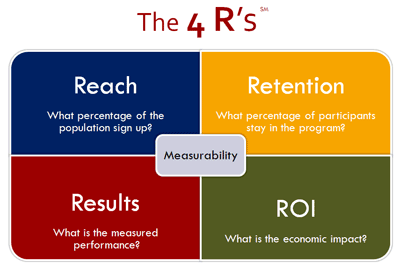 When it comes to wellness programs, measurability is the recipe for success. What makes the incentaHEALTH worksite wellness program a viable choice for your business?
Worksite wellness programs greatly improve employee health in workplaces across the U.S. Being able to measure success enables you to better assess the overall health of your employees, as well as reduce health care costs. When your workforce is healthy, everyone benefits. incentaHEALTH offers a variety of tools that track progress for every employee.
A healthier employee workforce lowers health care costs and creates a more productive workplace.
A measurable worksite wellness program, like those offered by incentaHEALTH, is extremely cost effective. Employers have the power to manage the incentaHEALTH solution for their entire workforce without additional staff.
A measurable worksite wellness program from incentaHEALTH typically has a 50% or higher participation rate. Participation is crucial for a successful worksite wellness program.
The HEALTHspot kiosk collects authenticated performance results continuously across all worksites. This data represents the success of individual participants, as well as the success of your company as a whole.  Measurable results are crucial to lowering health care costs, as well as making your workforce healthier and happier.
If you're interested in a measurable worksite wellness program that is sure to show results, learn more at incentaHEALTH.com today.