incentaHEALTH has partnered with the Colorado Department of Public Health and Environment to conduct several cohorts of our #PreventDiabetes program in an in-need area of the state, the San Luis Valley, with site partners: The Alamosa Senior Center and Rio Grande Hospital.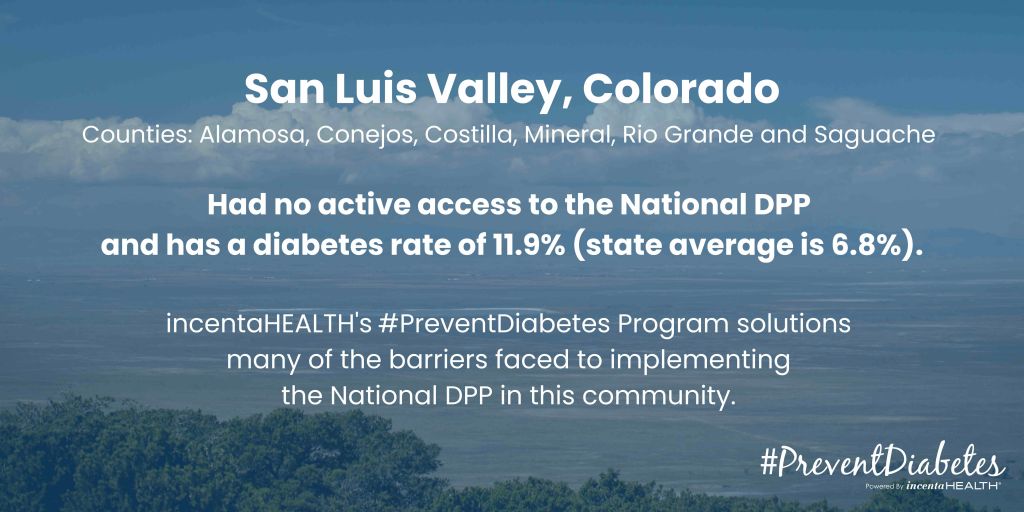 Need
Currently, the San Luis Valley, including Alamosa, Conejos, Costilla, Mineral, Rio Grande and Saguache counties, has no active access to the National DPP and has a diabetes rate of 11.9% (state average is 6.8%). 38.0% of the adult US population has prediabetes. That means 1 in 3 adults in San Luis Valley would be eligible for the program.
Goal
The goals for this project are to identify, engage, and support a National DPP host site with appropriate accommodations, including internet connectivity, to accommodate cohorts of participants through the year-long program with Distance Learning delivery mode provided by a recognized National DPP provider.
incentaHEALTH was selected by the Colorado Department of Public Health and Environment as the program provider because of our organizational relationships in the area and our technology abilities that address many of the barriers faced in delivery of the National Diabetes Prevention program in these communities.
Method
The implementation methodology is for participants to attend classes in-person at a hosting site, and the incentaHEALTH Diabetes Lifestyle Coach conducts the program via Distance Learning delivery mode. Distance Learning delivery mode entails a trained Lifestyle Coach delivering the 1 hour session live over video while participants attend and participate at an alternate location.
incentaHEALTH will be deploying our Wireless HEALTHspot Kiosks for participants to complete their Healthy Selfie and earn rewards quarterly throughout the one year program. Our Certified Diabetes Lifestyle Coach will facilitate the distance learning webinars and support participants in between appointments via chat, phone, and email. Participants will be given even more support with our 365 day curriculum that includes meal plans, grocery lists, workouts, meditations, and more.
The Diabetes Prevention Program (DPP) has shown that a 5-7% weight loss reduced the risk for developing Type 2 diabetes by 58% in adults. The incentaHEALTH #PreventDiabetes platform outperformed the CDC's standards in relation to weight loss, physical activity tracking, and weight loss tracking.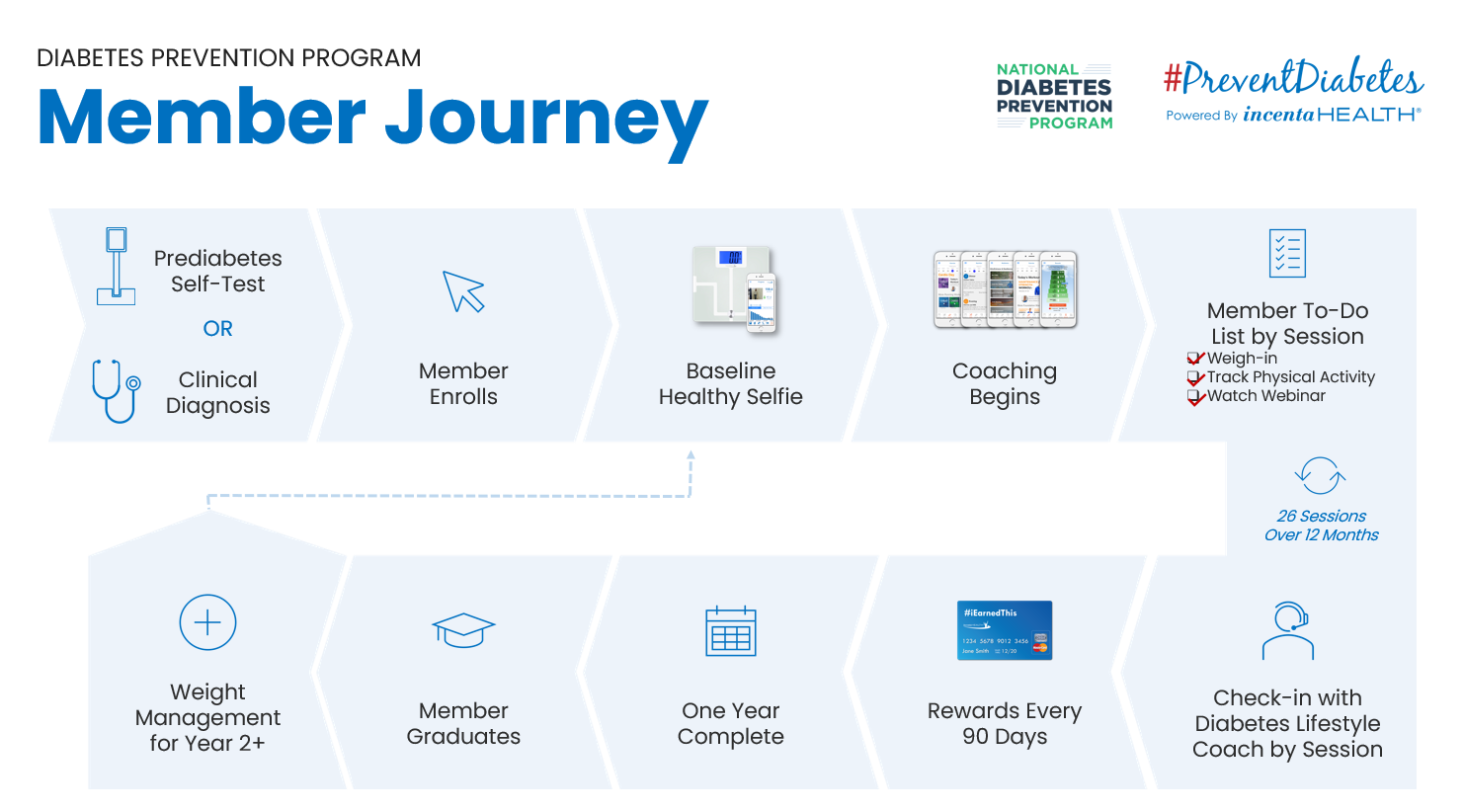 Contact Us
Intervention is key. #PreventDiabetes by incentaHEALTH partners with employers, health systems, researchers and medical groups to offer a scalable solution to the diabetes health crisis. Contact incentaHEALTH today for a demo of how our #PreventDiabetes platform can help your workplace thrive through better health.