Prediabetes is a growing issue in the United States, and in your workforce, with serious health and cost consequences. According to the Centers for Disease Control and Prevention (CDC), more than 1 out of 3 American adults has prediabetes. More shocking, 90% don't know they have it. So if you're wondering if diabetes in your workforce is something you need to be concerned about? The answer is yes.
Prediabetes occurs when blood sugar levels are higher than normal but not high enough to be diagnosed as Type 2 diabetes. Without a lifestyle intervention, most individuals with prediabetes develop diabetes within a few years. Once an individual develops Type 2 diabetes, they become at a higher risk for serious health complications like heart attacks, stroke, blindness, kidney failure and more.
A Type 2 diabetes diagnosis not only impacts the health and well-being of your employees, but also can affect your bottom line. According to the American Diabetes Association, the cost of healthcare for individuals with diabetes is 2.3 times more than those without diabetes. People diagnosed with diabetes incur an average of $16,752 per year in medical expenditures, which about 57% can be attributed to diabetes.
Diabetes is the costliest disease in America, with $1 out of every $4 in US health care costs being spent on caring for people with diabetes. Diabetes costs the U.S. $327 billion annually, including $237 billion in direct medical costs and $90 billion in indirect costs like reduced productivity and increased absenteeism. (Source)
At this point, are you wondering what is the potential impact of prediabetes on my workforce? The CDC has an interactive diabetes prevention impact toolkit that can estimate how many of your employees may be at risk for diabetes, calculating the costs and benefits. Check out the CDC's return on investment (ROI) calculator for personalized data.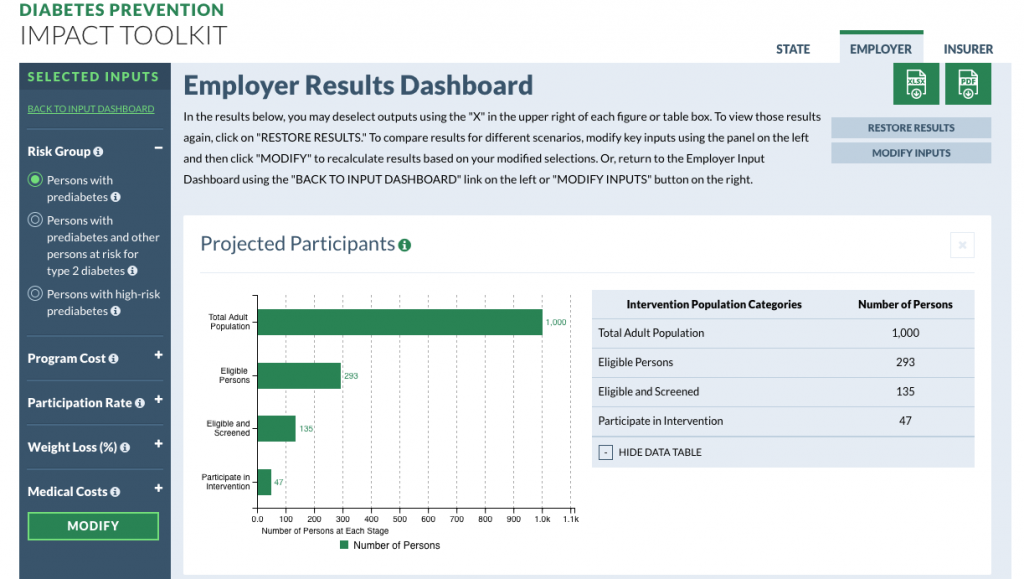 At incentaHEALTH we had a similar ROI analysis performed. Researchers at Virginia Tech, the University of Nebraska Medical Center, and Kaiser Permanente studied the outcomes of 33,656 members of incentaHEALTH's Weigh and Win program over 4 years. The data, as published in Preventive Medicine, found a 16 to 1 return on investment for our weight management program.

There is a solution to this growing health crisis: a lifestyle intervention. It will improve the health and well-being of your employees, increase their life expectancy and productivity, and improve your bottom line. Prediabetes prevention and prediabetes management should be a wellness benefit you offer employees.
At incentaHEALTH, we offer a turnkey online diabetes prevention program that can help reduce the health risks of your employees. Schedule a demo today to learn more about our CDC-recognized virtual Diabetes Prevention Program (DPP), #PreventDiabetes and see how we can help you improve the health of your population.