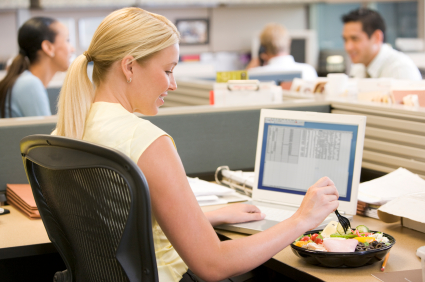 Making sure that you eat right at work doesn't have to be a complicated process. Having the right fuel to keep you going is important. If you start the week with a menu plan, you'll have no problem keeping the weight off while you are working your day away.
Eat Small and Frequently –Take the time to plan out five or six meals a day to help you perform better.
Avoid Fast Food –By bringing your own food to the office, you'll have control of what you eat and won't waste your entire break sitting in a drive-thru line.
Treat Yourself – When you avoid sweets, it can make your cravings more intense. Keep healthy sweet treats at your desk for those moments when you need a small indulgence. Trail mix, berries, and fruit are great options.
Don't Work Through Lunch – Working and eating at the same time can be very distracting. This may cause you to overeat and won't give you the mental break that you need. Sit down at a table and pay attention to how much you are eating.