incentaHEALTH has partnered with the Crook County Medical Services District to provide a select number of seats in the #PreventDiabetes program to an in-need area of the state. incentaHEALTH launched the #PreventDiabetes program with the State of Wyoming in July of 2021 and after seeing its success, Crook County reserved a number of seats specifically for residents in the county.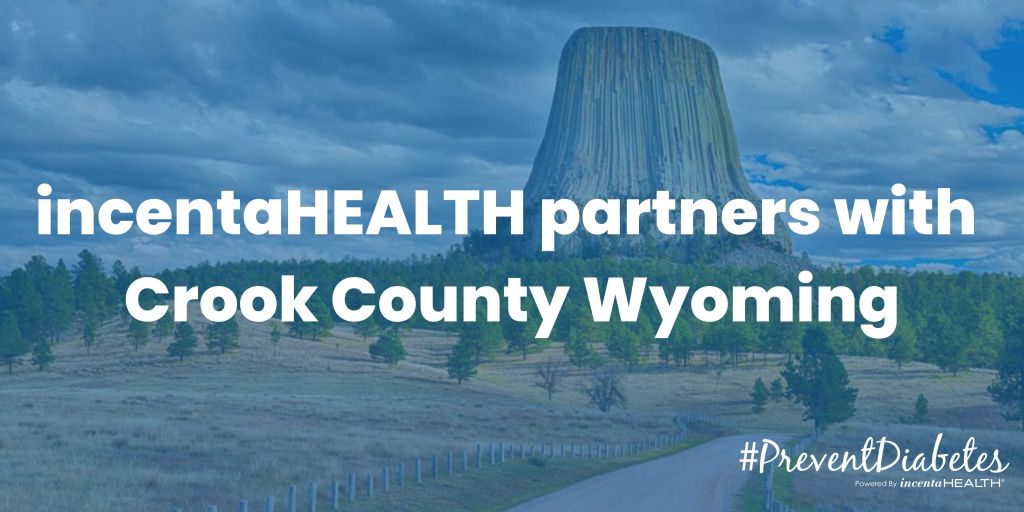 Need
Currently, Crook County, including Sundance, Beulah, Hulett, Aladdin, Moorcroft, and Pine Haven, has no active access to the National Diabetes Prevention Program (DPP) and has a diabetes rate of 7.5% (state average is 8.7%). 38.0% of the adult US population has prediabetes. That means 1 in 3 adults in Wyoming would be eligible for the program. 
Goal
The goal for this project is to support a cohort of participants in the rural and frontier areas of Crook Country through the year-long program with Virtual Learning delivery mode provided by a recognized National DPP provider.
incentaHEALTH was selected as the program provider because of our organizational relationships in the area and our technology abilities that address many of the barriers faced in delivery of the National Diabetes Prevention program in these communities.
Method
#PreventDiabetes by incentaHEALTH is a Centers For Disease Control (CDC) fully recognized virtual National Diabetes Prevention Program. The year-long program helps individuals reduce their risk for Type 2 diabetes through a series of on-demand educational webinars
incentaHEALTH will be deploying our Wireless HEALTHspot Home Scales for participants to complete their Healthy Selfie and earn rewards quarterly throughout the one year program. Our Certified Diabetes Lifestyle Coaches will be available to support participants via chat, phone, and email. Participants will be given even more support with our 365 day curriculum that includes meal plans, grocery lists, workouts, meditations, and more. 
The Diabetes Prevention Program (DPP) has shown that a 5-7% weight loss reduced the risk for developing Type 2 diabetes by 58% in adults. The incentaHEALTH #PreventDiabetes platform outperformed the CDC's standards in relation to weight loss, physical activity tracking, and weight loss tracking.
Contact Us
Intervention is key. #PreventDiabetes by incentaHEALTH partners with employers, health systems, researchers and medical groups to offer a scalable solution to the diabetes health crisis. Contact incentaHEALTH today for a demo of how our #PreventDiabetes platform can help your workplace thrive through better health.