In the United States an estimated 88 million, or 1 in 3 adults, has prediabetes. The majority of those individuals are unaware. Prediabetes is a growing issue in the United States with serious health and cost consequences. To address the rising health crisis, the Centers for Disease Control (CDC) created the National Diabetes Prevention Program (National DPP).

The National DPP is a yearlong lifestyle change program that follows the CDC's Prevent T2 curriculum. The goal is to help participants make healthy lifestyle changes and lose weight in order to prevent prediabetes and type 2 diabetes. You can dive deeper into the details of this program in our article What is a National DPP?
How is a National DPP Delivered?
There are 3 delivery models of National DPP lifestyle change program: in-person, online and distance-based.
In–Person – A trained Lifestyle Coach conducts a live class where 100% of participants are physically present in a classroom or classroom-like setting.
Online – Participants are able access course sessions via a computer, tablet or smartphone device and engage with the program virtually. Live Lifestyle Coach interaction is required and can occur by phone, email or text message with bi-directional communication (i.e. participants have the ability to respond and get support from a live coach.)
Distance Learning – Participants attend a live session with a trained Lifestyle Coach by calling in or via video-conference.
The onset of the COVID-19 pandemic in early 2020 caused many diabetes prevention program providers to halt offering in-person programs either shifting to distance-based learning models or leaving individuals without access to prevention programs. Distance-based and online delivery models are able to overcome engagement and reach barriers. Since individuals are able to connect virtually with the program, it's a scalable solution to reach large numbers of individuals in city, suburb and rural communities.
What Delivery Modes Does incentaHEALTH Offer?
At incentaHEALTH, we've been providing digital wellness programming for well over a decade. Built upon our award-winning weight management program, we've built out our diabetes prevention program, #PreventDiabetes, with many of the same digital resources as our weight management program, plus additional support and educational modules in accordance with the CDC-recognized curriculum. We currently offer virtual and distance-based learning programs. Both programs are able to reach and engage remote employees or community members from the comfort of their home.
Let's dive a little deeper into our online and distance-based Diabetes Prevention Programs so you can decide which program is right for you or the community members you serve.
#PreventDiabetes Online
The online #PreventDiabetes program is a yearlong CDC fully recognized National Diabetes Prevention Program. Upon enrolling in the virtual #PreventDiabetes program participants are able to access all the resources and educational modules virtually via the incentaHEALTH website or app. Participants are able to watch their on-demand video webinars at a day and time that is most convenient to them each week. There are 26 sessions total. Sessions are available weekly for the first 16 weeks, then twice a month for months 5 and 6, and then once a month for months 6-12. All educational course materials are available to view and download virtually as well.
Each participant has the support of a certified Diabetes Lifestyle Coach via their preferred mode of communication. Participants are able to connect each week by email or phone to chat with their coach about their goals and progress.
#PreventDiabetes Distance-Based
The distance-based #PreventDiabetes program is a yearlong National Diabetes Prevention Program with pending recognition status from the CDC. Upon enrolling in the distance-based #PreventDiabetes program participants are assigned to a group which collectively meets at a specific time and day of the week via a Zoom meeting with their certified Diabetes Lifestyle Coach. Accommodations are made to assign participants to a group with a convenient meeting time. As with the virtual delivery mode, there are 26 sessions in total that follow the same weekly, bi-monthly, and monthly schedule. All educational course materials are available to view and download virtually as well.
Support from their Diabetes Lifestyle Coach happens live via the scheduled session. Additional coach support can occur on-demand via phone, email or chat as needed to help participants achieve their health goals.
Features Provided In Both Online and Distance-Based #PreventDiabetes Programs
Participants in both our virtual and distance-based programs are provided a full suite of resources online and in-app to help them on their health improvement journey.
Each participant receives an incentaHEALTH Smart Scale to track their weight and BMI with photographed Healthy Selfie weigh-ins at home. Additional food, physical activity and action planning resources are available virtually as well.
To further support our participant's lifestyle change, daily coaching via email, online and app provides daily health tips, exercise plans from a Personal Trainer with strength training videos and cardio audio guides, 6 daily meal ideas from a Registered Dietitian, access to a Mindfulness Library of guided meditations and more. Each participant has the opportunity to earn cash rewards every 90 days for achieving weight improvement goals.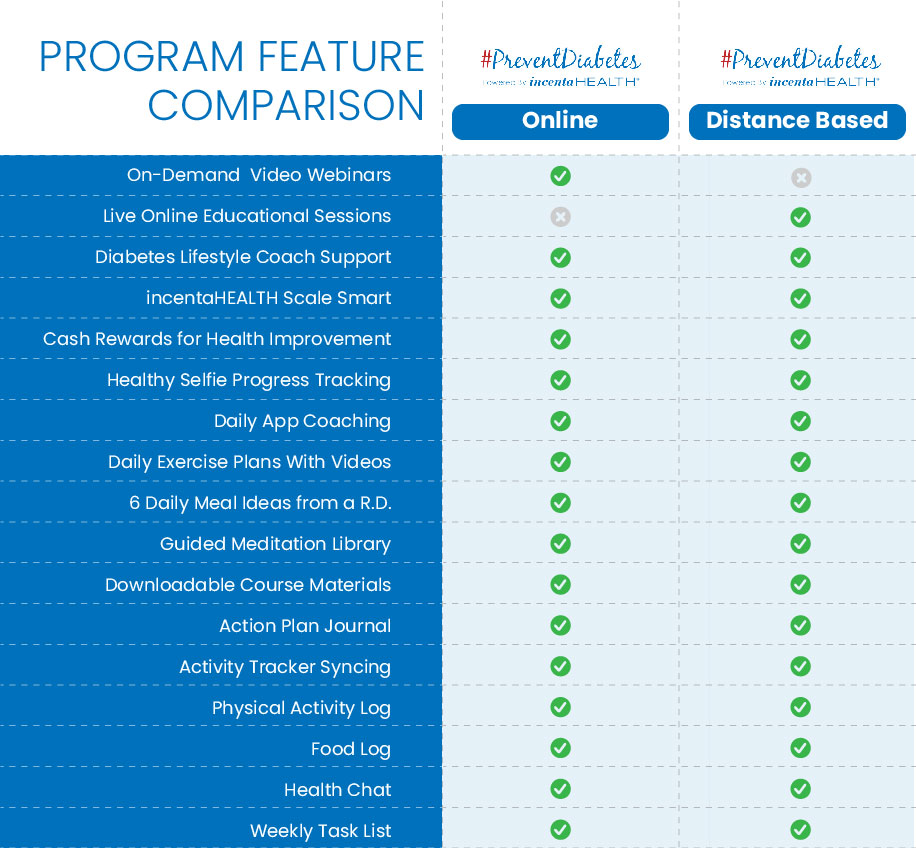 What Results Do Participants Achieve?
The Diabetes Prevention Program (DPP) has shown that a 5-7% weight loss reduced the risk for developing type 2 diabetes by 58% in adults. The incentaHEALTH #PreventDiabetes platform outperformed the CDC's standards in relation to weight loss, physical activity tracking and weight loss tracking.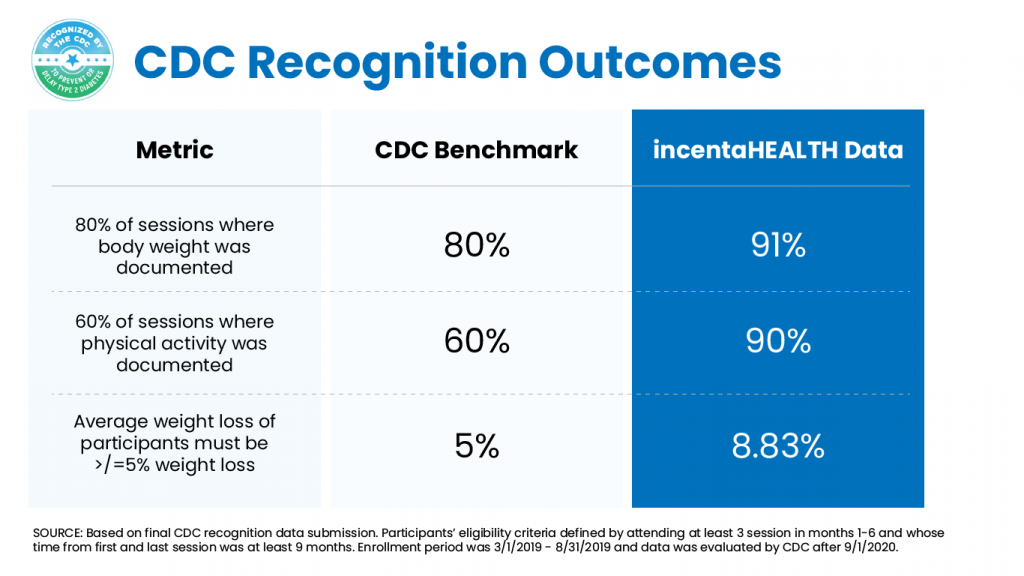 How Can I Get Involved?
#PreventDiabetes by incentaHEALTH partners with employers, health systems, researchers, medical groups, universities and public health departments to offer a scalable solution to the diabetes health crisis. White-labeled programming, custom websites and enrollment questions, detailed data and analytics, and more are available. Contact us today to learn how our #PreventDiabetes platform can help your workplace, patients, or community thrive through better health.